The Chuck Fulmore Trio's desire is to be an encouragement to others, to point them to Jesus and His loving grace for each person. Perhaps their strongest outreach has been through the songs the Lord has shared with Chuck, such as "Never Give Up," "Trials Make Pure Gold," "God's Church Is Going Through," "Thank You for Loving Me," and "I Know He Loves Me." His prayer is to encourage and lift up others when they need to remember that He is their friend, their very best friend.

The Chuck Fulmore Trio, consisting of Chuck, Dona, and their daughter Carla Dawn, have been a singing family since Carla was four years old. They actually started with a family quartet, with Carla Dawn carrying the lead, Dona singing alto, their eldest daughter Dianne on tenor, and Chuck on bass. It was after Dianne passed away with leukemia that their family group became a trio.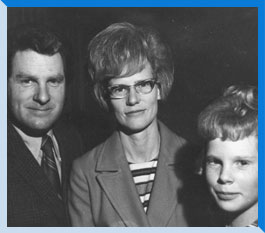 We started singing as a family long ago.
Jean Guille sang with us while Carla was growing into singing the low parts.
Their favorite part of ministry was singing for evangelistic meetings with several different evangelists. More recently, they have enjoyed being a part of the Voice of Prophecy Family Reunion video series. Chuck is humbled and honored to have well over a hundred cuts of his songs recorded by a variety of artists. It is always a thrill to hear what a talented group or soloist does with a simple song.

The Heritage Singers, King's Heralds, Del Delker and other touring artists have carried his songs to many different countries. He praises God for allowing him to be a small part in spreading the Gospel of Jesus and His love.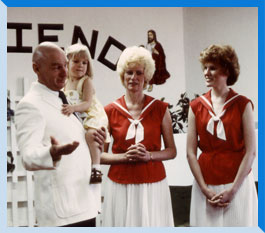 Working with kids is Chuck's favorite activity. This was the summer Chuck had no hair.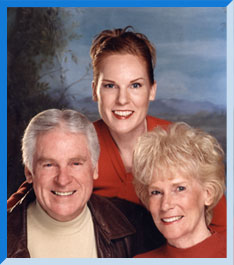 Today we still sing and share with others God's amazing grace.